Trudy Madan, Chief Executive Officer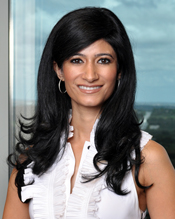 Trudy Madan launched Synergyst Research in 2006, and she has led it to two consecutive appearances on the Inc. magazine list of the nation's fastest-growing private companies. She also has been recognized on the San Antonio Business Journal's "40 Under 40" list of young business executives.
Prior to starting Synergyst Research, she was a senior executive at insurance companies and physicians' organizations, where she negotiated multi-million-dollar contracts with national hospitals, multi-specialty physician groups and ancillary organizations.
Her expertise includes physician and hospital contracting, strategic business development, marketing, and sales. She also has assisted organizations in obtaining NCQA accreditation.
She is a licensed agent for group insurance and does extensive consulting in the areas of managing health benefits and reducing costs. She serves on the boards of the San Antonio chapter of the American Diabetes Association and Arts San Antonio.
Trudy holds a Master of Science degree in Healthcare Administration from Texas Woman's University.
You can send an email to her at [email protected]
Synergyst Research Group, llc.
Corporate Office
4242 Medical Drive, Suite 5100
San Antonio, TX 78229
Mailing address
2313 Lockhill-Selma Road #245
San Antonio, TX 78230


Synergyst Research Group / Discovery Clinical Trials Honored for Third Year in a Row on the Inc. 500|5000 List of America's Fastest-Growing Private Companies.
Read more.